The CD is finished! Click on the links to read about it, listen to samples or purchase it.

Check out the mini review in Maria's blog entry following the Voodoo Lounge show.

Also, see the new Buzz Page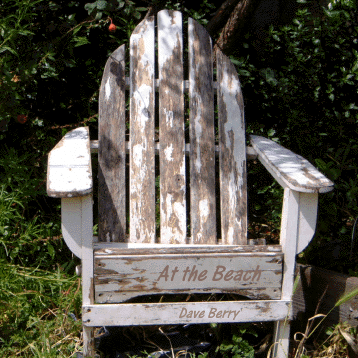 For more info on the making of the CD, read the story.
For purchase info, visit the store or contact Dave at
dberry_98 at yahoo dot com
Bio: Growing up in Appalachia, then to New York and finally California, Dave Berry crafts songs that speak to the issues of today in a traditional soulful sound. He calls it as he sees it and finds the silver lining in the worst of situations. Dave is a folk singer songwriter for the new millennium with honesty, courage and hope. Once called the voice of a generation that is searching for answers, his performances are a mix of bluegrass, 70's folk rock with a touch of alternative country.

After honing his singer songwriter craft on the sidelines of the music industry for over 25 years, he has released his first CD "At the Beach" which includes songs of love, protest, humor, passion, and honesty looking for an audience willing to dig deeper. "At the Beach" is largely a solo effort with a supporting cast of friends and family. Being self produced, it continues the recent trend proving you don't necessarily need big money or name producers to make a quality CD, although he acknowledges that it might be fun to try. It has been compared to everything from Norman Blake to Jimmy Buffet to Kermit the Frog with some homespun mandolin pickin thrown in for spice. He captures the soul on multiple levels with songs that have meaningful thoughtful lyrics wrapped in lingering catchy melodies.

Songs such as "Laid Off Blues" (described by a noted producer as the "anthem of San Francisco") and "I'm Getting Nowhere" challenge the listener and those most affected by economic hard times to rise above the turmoil and get on with their lives. They are a biting, passionate call for patience and strength while finding your own road to personal recovery and is a tonic for hope in these economic hard times. The song "Men of Iron and Steel" captures the spirit of professional football from the 1920's in small industrial towns such as his hometown of Ironton, Ohio before the team's ultimate migration away from the factory towns to the major cities. His haunting melodies and lyrics evoke the hope and despair of the best of American song stylists.